GH Interior Glass is one of the UK's leading commercial glass partitioning suppliers. From our distribution centre in Bromley, Kent. Our technical and project teams are all housed in the same facility.This means we can offer industry leading service levels for both standard and bespoke solutions.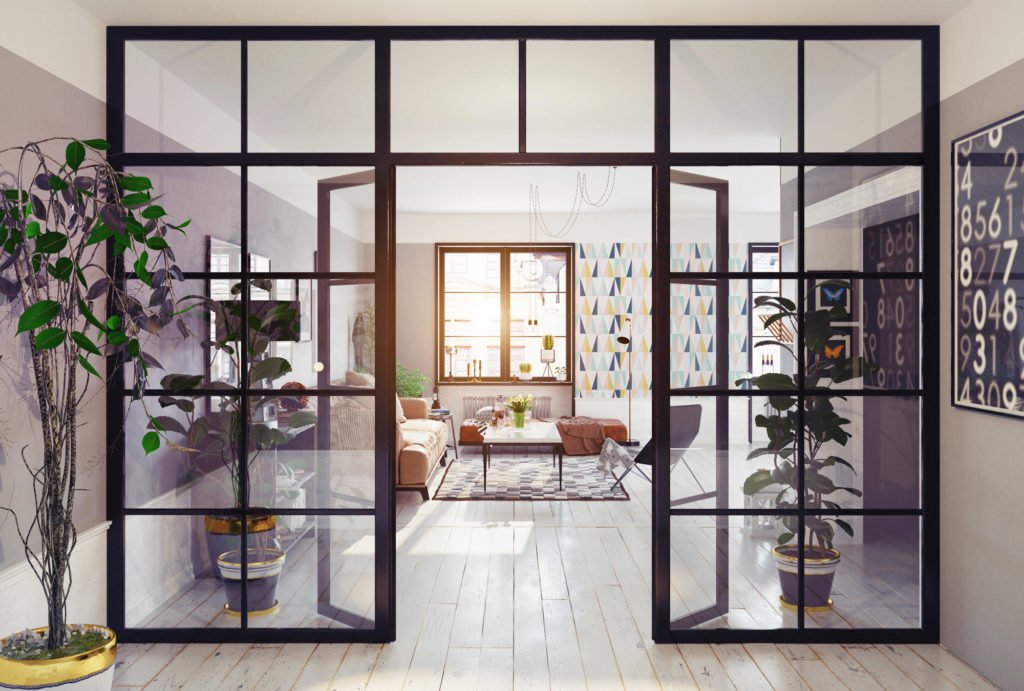 Glass office partitions, glazed & Frameless systems – supplied & fitted with 25+ years industry experience.
GH Interior Glass is highly specialised and experienced in providing glass partitioning to the commercial sector, acoustic glass partitioning for the media and recording industry as well as providing bespoke glass partitions within a range of sectors including retail, hospitality, leisure and residential.
---
Glass partitioning solutions
---
Why choose us?

Fully Bespoke
All our glass partitions are custom designed and made specially for your space.
Fast Track Service
When you need to meet tight deadlines, we can help with our fast-track service.

Made in the UK
We work with top UK manufactures, so you can expect the highest standards of quality, security and design.
Established 25+ years
Our 25+ years industry experience is your assurance of our capability and professionalism.
A selection of our projects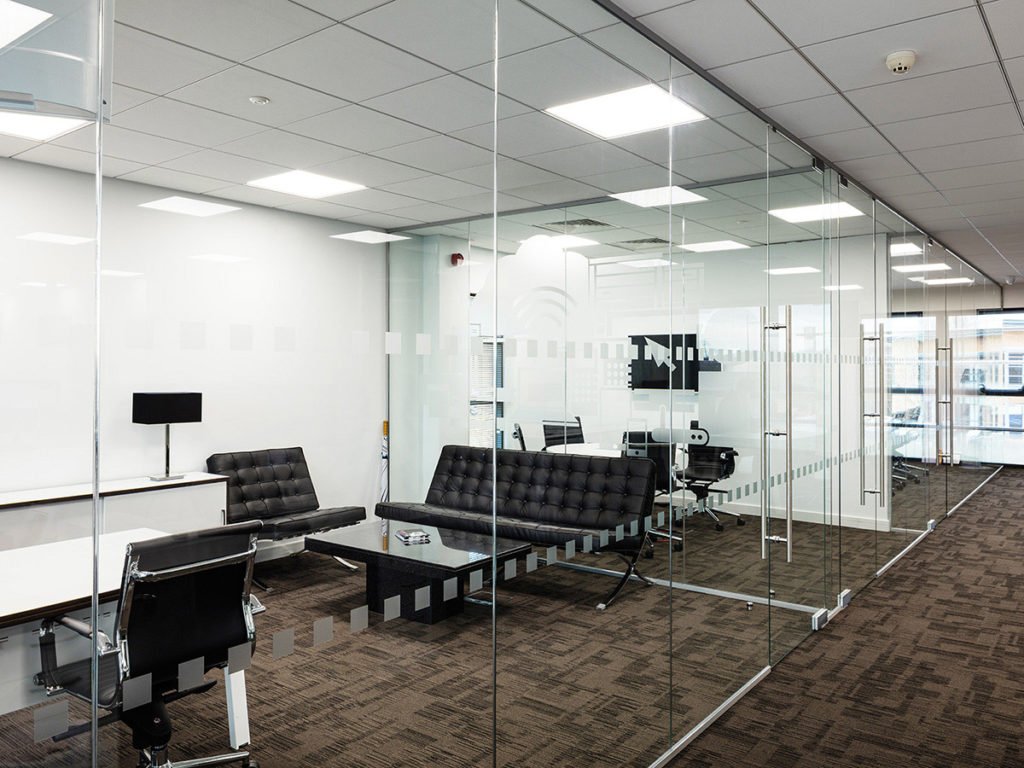 What our clients say about us
Some of our clients
Are you interested in a no obligation site visit and bespoke quotation?
If you have any queries relating to glass partitioning, we would love to be of assistance. We offer free, no obligation site surveys and advice to all prospective clients; we work in London and the Home Counties.
Please contact us via e-mail or the Call Back form below. If you'd rather phone – you can reach our Director on the below number to discuss all your glass partitioning needs.
CALL
020 8461 8966
EMAIL
[email protected]
GLASS PARTITIONING GALLERY SHOWCASE
Choose from a flexible range of stylish glass office partitions and sliding doors for your office or home. Glass partitions can give your business the modern, airy feel you desire.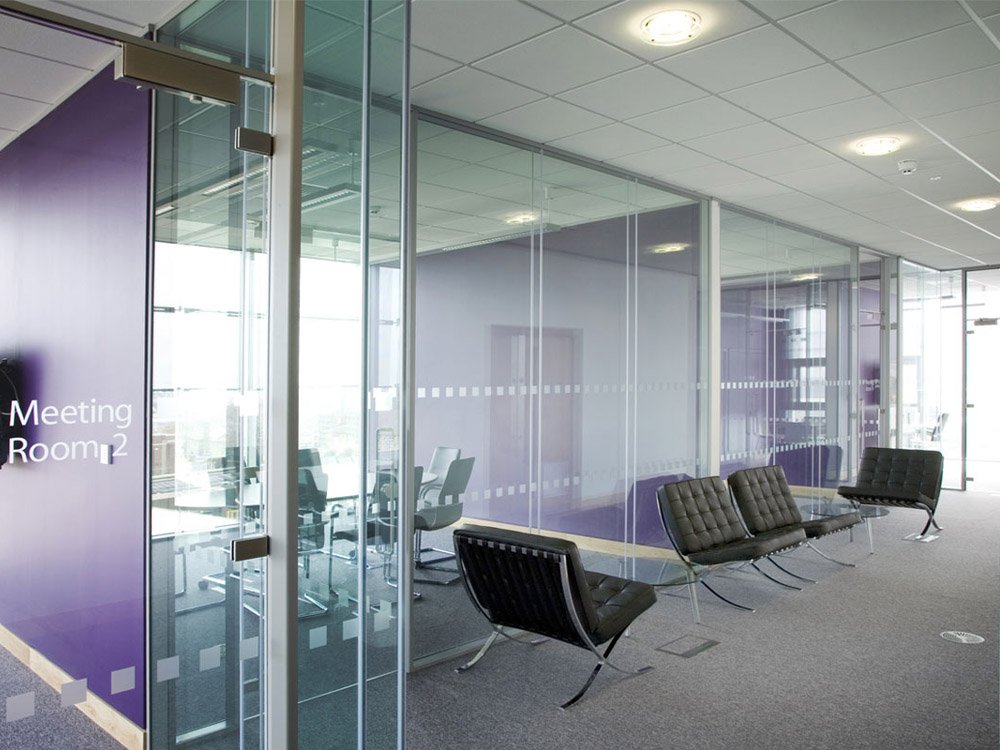 ---
EVERYTHING YOU EVER WANTED TO KNOW ABOUT GLASS PARTITIONING
Bring light and a feeling of space and well-being into a room and enjoy open plan living with glass walls and partitions
Glass Partitioning FAQs
It is sometimes difficult for organisations to find the right balance within their office design. There always seems to be a compromise. Practicality versus aesthetics. Open plan versus individual offices. Contemporary versus traditional. Cost versus style. Communication versus privacy. There's so much to choose from! Glass partitioning and glass walls provide flexible solutions that mean you no longer need to compromise on your preferred office layout.
Glass partitions and glass walls are a cost-effective solution when it comes to achieving a light, airy and open plan feel, with improved acoustics and privacy when required. The separation created by glass partitions enables quieter working zones without hindering easy communication or losing the atmosphere of an open plan office.
Glass provides a modern, expensive look with hidden cost saving benefits. By allowing more light to access your offices, no longer blocked by solid walls or partitions, glass helps to reduce energy bills by decreasing the amount of artificial lighting required.
Movable glass walls offer even more adaptability in the workplace, enabling large open plan areas to be sectioned off only when required, without creating dark, claustrophobic, uninviting rooms. Glass walls enable even the smallest of spaces to feel light and welcoming.
As temporary fixtures, glass walls and partitions can be easily installed and moved, adding yet more benefits to this stylish addition to your workplace. Glass can be branded, frosted, and even include signage or decoration to further enhance the overall look and feel of your office environment.
When using glass to separate areas within an office you retain the feeling of honest and open communication, showing others that you operate a transparent business.  Staff, clients and visitors will appreciate your subliminal 'our door is always open' message, putting your organisation in a positive light from the moment people enter your office space.
Glass partitioning can be used to temporarily or permanently divide an office space into multiple areas or create a complete room within a room or add decorative division to an open plan area, it also helps reduce noise levels and provides some privacy within the working environment.
Glass room partitions are a cost effective way to divide/alter rooms requiring little to no structural changes therefore keeping the cost down to a minimum.
Glass partitioning creates a light and airy working environment; choose clear glass to create the illusion of open space. Use textured coloured or bevelled glass designs in your partitions if you want to create a focal point as well as increase privacy. They also help to reduce noise pollution and afford   privacy within the workspace.
This type of partitioning is normally constructed as single glazed units.  Double glazed glass partitioning has the advantage of better sound insulation; blinds can also be included between the sheets of glass if extra privacy is required.
Another benefit with glass partitioning is that you have the ability to apply decorative films with your company logo or emblem or indeed almost any design you request on them.
Glass partitions are not normally fire rated however, they can be made more fire resistant with special glass should this be required.
Doors within glass partitions are normally glass but can be solid if required, they can be fitted on patch hinges, floor mounts or sliding rails, within frames or frameless systems.
Glass partitioning is also available in various forms not just as straight flat glass panels. We can create bespoke curved or faceted screens to suit your design.
We have a number of systems available. Our most cost effective and popular, frameless single glazed system with a frameless door, is specified at 33dB sound attenuation. At this level you will hear muffled conversations. Our best double glazed system, fitted with acoustic glass is specified at 50dB sound attenuation.
We can provide a guide based on the test data on the glass type specified, but every building is different. The construction of a building and the furnishings within a room make a significant difference to the way sound behaves. If sound insulation is important to you then we have a number of ways to improve on the Standard system without increasing the cost beyond reason.
The first stage of fitting is to lay out and fix an Aluminium U channel around the perimeter of where the glass partition will be situated. The channel is fixed to the floor, walls and ceiling with flat headed screws. Once the U channel has been installed, the glass can either be lifted into the top channel and lowered into the botttom channel (lift and drop systems only) or the glass can be placed at an opening and slid along the U channel to the required position. Once the glass panels have been placed correctly with in the U channel, their level will be checked with a spirit level and packers may be used at the base of the glass to adjust and level them (these are not visible). All joints will then be filled with clear silicon to create the best visual finish, whilst also improving the strength and rigidity of the partition and signficiantly improves the sound proofing of the room.
The time depends very much on the nature of the system and your own timeframes which we try to meet wherever possible.  We will give you a detailed schedule on receipt of your order and keep you updated regularly on progress.
Glass doors work on a pivot system rather than a conventional wall mounted hinge. Our frameless glass door systems consist of a floor mounted hydraulic hinge for glass doors  which is fixed on a floor mounted plate. Please note with this system there is no need to make a hole in your floor as with some glass door systems. The floor spring controls the opening and closing motion of the door, and allows the door to be held open at 90 degrees both sides.  Please note that it is very important to use a floor spring to control the opening and closing of glass door as without this the glass door could swing uncontrollably or slam shut causing damage or breakage to the glass door. Two metal patches are fixed to the glass door in each corner. The bottom metal patch allows the glass door to be slotted directly onto the floor mounting plate ; the top metal patch attaches directly to the door pivot point and is fixed into the U-channel or directly into the ceiling.
To comply with Building Regulation Document N and M it is required, by law, that a minimum of 2 rows of dots or squares are applied to full height glass partitions to denote that it is glass. Unless specifically requested to the contrary, we include the minimum manifestation requirement within your quotation.
You may also wish to use a bespoke film manifestation design. We would be pleased to quote for your specific requirement, think of a design, we can apply it!
If Manifestation is not ordered from us then we take no responsibility for any injury or claim arising, we have informed you of this requirement.
The increased use of glazing in buildings, together with building code requirements in the fire-rated glass sector have lead to the development of new types of fire resistant glasses and glass partitions. The trend for fire protection is definitely moving towards incorporating more glass in new ways leading to many new products available in addition to wired glass. Specially toughened glasses and clear laminated glasses have transformed the way architects think about fire protection. Modern technology permits the use of glass in the most aesthetically sensitive areas without compromising fire safety standards. Fire resistant glass is suitable for use in stairwells, computer rooms, evacuation routes in large office buildings, hospitals, shopping centres and other heat sensitive areas. The advantages include the restriction in the spread of flames, smoke and hot gases.
A GH Interior Glass,  our glass partitions projects can include a wide range of fire resistant glass systems, classified by levels of integrity and insulation to contain the spread of flame, smoke and heat. From the latest silicone butt jointed technology, to the very highest performance timber and steel framed systems, offering from 30 mins to up to 2 hours (120 minutes) integrity and insulation. Integrity Fire protection relates to the amount of time the system has been proven and is required to maintain its integrity when it is faced with fire. Insulation Fire protection is the added measure where the partition also needs to insulate occupants of the building from the fire on the other side of the partition wall or glass screen.
GH Interior Glass offer a range of fire rated glass partition systems and fire screens to suit even the most stringent scenarios. For peace of mind, many glass partitioning systems don't actually need to be structurally fire rated in accordance to UK building regulations. However, it is important to always check if in doubt. We are very experienced in the area of fire safety and can help take you through the process and then suggest suitable systems to ensure you are protected. We can provide systems with up to 120 minutes protection.
The classification of fire is split into two sections:
Fire Integrity – Ability of the glass partition to act as a barrier and stop the progress of the fire, smoke and toxic gases from one side of the partition to the other.
Fire Insulation – Ability of the glass partition to restrict the heat moving from one side of the wall to the other.
These classifications will be listed in terms of minutes for integrity and insulation, i.e. 30/30 would be 30 minutes integrity and 30 minutes insulation.
A Building Control Officer (BCO) has the ultimate say on the level required for an area, we can only help point you in the right direction. To give an indication, typical areas requiring some level of fire protection would be corridors and escape routes among others.