If you're looking to showcase and protect your front-facing business, then look no further.
GH Interior Glass has been supplying and installing Glass Shopfronts for over 20 years. Our frameless Glass Shopfronts are a popular choice for offices, retailers, showrooms and many other prestigious places. Toughened glass is completely transparent with no inner profiles, ensuring that your merchandise being displayed is the main focal point. All toughened glass used in our Glass Shopfronts is manufactured in accordance with BS EN12150
---
Glass Shopfronts.
GH Interior Glass frameless Glass Shopfronts are designed to inspire and endure, and our glass laminating specialists create the highest-possible quality and calibre glass, built to stand the test of time. Available in toughened glass, laminate glass or toughened laminate glass, and come in a variety of beautiful finishes, Our team of expert glass designers and engineers are all trained in the use of mini-crawlers, Hiabs and big structural suckers, allowing us to take on jobs of any scale, including some of the biggest high-street and luxury brands. However, we try to match and adapt with any budget, and also work with retailers of all shapes and sizes right down to small family-run shops
Beautiful Window box shopfronts on either side of the huge shutter which neatly recessed into the ceiling, giving a very inviting open feel to the shop, you already feel like you're inside looking in.
Frameless glass shopfronts with minimal fixtures give minimal lines and contemporary design suitable to any brand to showcase their beautiful products and interior design.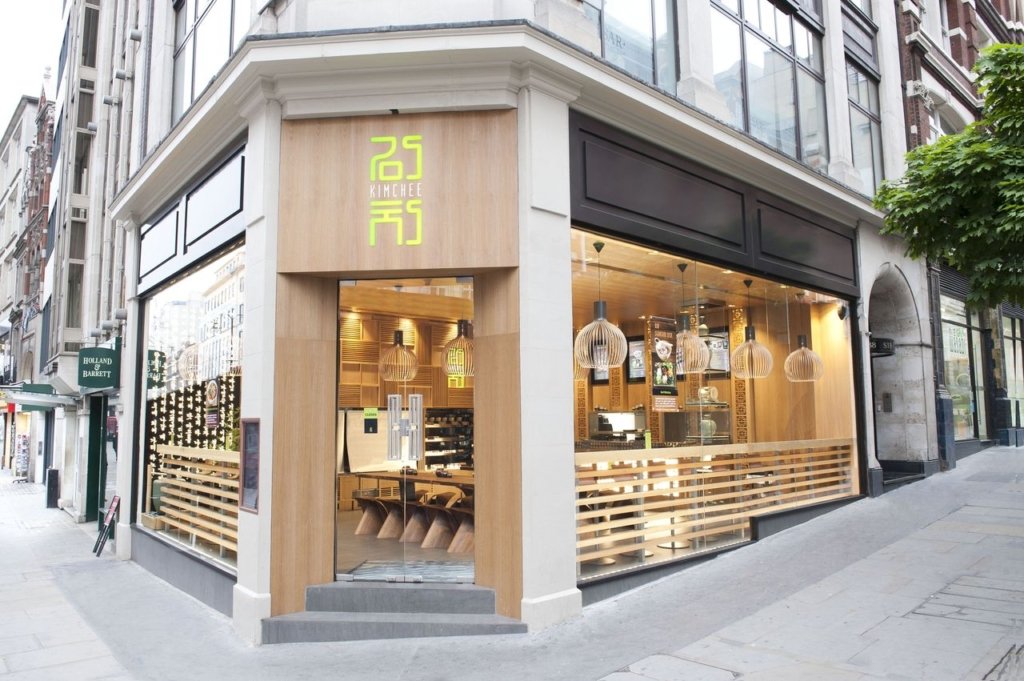 Iconic location for Kimchee sitting on the Strand. GH Interior Glass can provide the full design including all calculations for wind loadings and full fabrication drawings for sign-off.
Why choose us?
Fully bespoke
We create Glass Shopfronts using many different fixings and can measure your space to suit your requirements
Fast track service
When you need to meet tight deadlines, we can help with our fast-track service.
Made in the UK
We work with top UK manufactures, so you can expect the highest standards of quality, security and design.
Established 25+ years
Our 25+ years industry experience is your assurance of our capability and professionalism.
---
A selection of our Glass Shopfronts projects
Some of our clients
ARE YOU INTERESTED IN A NO OBLIGATION SITE VISIT & BESPOKE QUOTATION?
If you have any queries relating to Glass Shopfronts , we would love to be of assistance. We offer free, no-obligation site surveys and advice to all prospective clients; we work in London and the Home Counties.
Please contact us via e-mail or the Call Back form below. If you'd rather phone – you can reach us on the below number to discuss all your Glass Shopfronts needs.
CALL
020 8461 8966
EMAIL
[email protected]
---
Glass Shopfronts FAQs
What type of Glazing is used for Glass Shopfronts?
GH Interior Glass use a wide of laminated safety glass, toughened glass or double-glazed units with all units being manufactured in accordance to specifications given. The type of glass in any system used will depend on a variety of factors such as what system is being used, what glazing is currently in situ and the span of glazing being covered.
Do you offer an anti-reflective glass for Glass Shopfronts?
In certain lighting conditions ordinary float glass can restrict the prospective customers' view inside, so we offer a number of anti-reflective glass solutions:
Pilkington OptiView™, with its anti-reflective properties, allows the showroom interior to be seen at its best providing the customer with a clear, eye-catching display. When combined with the almost 'colourless' low-iron Pilkington Optiwhite™, a true representation of the products is provided. The offering is complete with the excellent safety glass – laminated Pilkington OptiView™ Protect.
Pilkington OptiView™ Protect OW is a laminated safety glass, especially designed to protect product exposure areas, capable of responding to safety standards. But the features that make this glass the best solution for any store front are the very low light reflection thanks to the surface coatings applied to the glass and the extraordinary colour rendering properties that allow a perfectly neutral and unaltered viewing of the exposed objects. The anti-reflective properties are attractive on display windows exposed to external natural light and artificial light inside shopping malls.
Pilkington Planar™ bolted structural glazing can be utilised for complex designs for shopping centres, where a flush, frameless appearance is desired by the client.
What is toughened glass?
Toughened glass is the most common glass material and it is used in various applications in different types of industries. In the last few years, its use has become very common in the architecture and construction industry. Here are some of the benefits of using them as your glass door.
With the toughened glass your business can showcase the products in the best manner. It does not matter whether you are running a salon, retail store, book shop, or any other business that can benefit from this option. By putting the least effort, the business is going to gain attention no matter what.
Another added benefit is security which is the main concern for the shop owner. The glass is highly strong, durable, superior, and resilience. The glass is shock-proof and it can handle any impact along with safeguarding your business against theft and vandalism. Moreover, it is weather-resistant and also works well in maintaining the temperature inside the building. If by any chance the glass breaks it is going to split into tiny pieces that minimize the risk.
Do you offer glazing solutions that reduce the risk of accident or protect against deliberate attack?

For total reassurance of greater safety and security without compromising levels of natural daylight, GH Interior Glass offers a range of glass shopfront solutions. From security to fire resistance, glass can be used to protect a building's occupants from accidental and deliberate damage in many ways, while also allowing the creation of bold and attractive designs.
Demanding safety legislation has highlighted critical areas where modern safety glazing must comply with the required safe practice. Innovations in the development of safety/security glass now ensures people can be protected from personal injury or in the most extreme cases, buildings can be protected from various forms of attack.
We offer a wide range of sophisticated products that meet the ever-increasing demands, without compromising on the design criteria of natural light and visibility.